COVID-19 Response and Prevention
2020 was a year of continued crises and difficulties due to the global outbreak of COVID-19. Hanwha Corporation established and implemented response strategies to overcome the pandemic quickly and systematically and to provide a safe and healthy environment for all employees and on-site personnel. In addition, we are striving to overcome the global pandemic hand in hand with our executives and employees as well as various stakeholders, including our suppliers and local communities, and lay the foundation for coexistence in a safe society.
Establishment of an
emergency response system

Established response processes in case of confirmed cases at the plants (organized an emergency response TF)

Infection prevention
activities in the workplace

Temperature checks and constant health monitoring of executives and employees
Distributed COVID-19 prevention management guidelines (regular updates and posts on the company's web portal)
Conducted regular quarantine and disinfection of the plants, constant monitoring of compliance with quarantine safety rules

Support through provision
of protective equipment

Provided PPE such as masks and hand sanitizers to executives and employees
Provided self-quarantine expenses for executives and employees returning from overseas business trips (up to 14 days)

Support for symptomatic
employees

Fully supported COVID-19 testing expenses in cases of confirmed cases at the plants
Implemented an expanded remote work and flexible working system (executives or employees switch to remote work in advance if a family member is experiencing health issues)

Protection management at
overseas plants

Daily monitoring for resident and local employees in foreign countries
- Infection prevention process similar to guidelines for plants in Korea
Continuously sending protective equipment such as self-examination kit and masks to all employees on long time business trip

Support for a safe working
environment

Implemented active remote work through self-diagnosis of health conditions
(simplified procedures, including prior approval)
Managed the proportion of employees working from home by stage; for instance, in the case of confirmed cases or related issues, we implemented remote work for all employees except for the minimum manpower necessary

Support towards the safety
and health of suppliers

Provided PPE such as masks and hand sanitizers to suppliers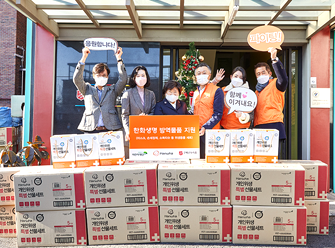 Support for the Safety and Health of the Local Community
Hanwha Corporation donated various hygiene products and protective equipment to safeguard the local community from the risk of COVID-19 infection and to promote the safety and health of the local community. In February 2020, we provided protective equipment, including 150,000 masks, for vulnerable populations and medical professionals in Daegu and Gyeongsangbuk-do where COVID-19 was rapidly spreading. In March 2020, we donated funds for overcoming COVID-19 to families of veterans, such as Persons of National Merit. During winter, when COVID-19 and influenza prevailed at the same time, we assumed our responsibility in securing the safety of the local community as a topmost priority in the face of social and economic crises by producing and delivering personal hygiene kits to 10,000 households from vulnerable populations.
---
Employee Health Promotion
Hanwha Corporation upholds maintaining the health and safety of all our employees as the root and primary principle for achieving our ESH management vision and operates a variety of health management and promotion programs for all our employees.
Employee Health Management Program
Operation of health administration offices at each plant
Assessment, analysis, and improvement actions of job stress factors
Risk assessment and follow-up management of cerebrovascular disease
Health checkups for all executives and employees and comprehensive health checkup reflecting individual needs for executives and employees aged 35 and older and their spouses
Health Checkups in 2020 (Unit: persons)
Employee
Spouse
Total
2,858
1,834
4,692
Employee Health Enhancement Program
Exercise programs for executives and employees with high blood pressure, diabetes, dyslipidemia, urinalysis, and obesity
Mental health promotion programs, such as smoking cessation and obesity clinics, alcohol treatment and rehabilitation programs, and nutrition improvement programs
Check stress, depression, and alcohol dependence through a survey, select risk group subjects, and support individual counseling with an external professional counselor
---
Work Environment Management
Hanwha Corporation endeavors to protect our employees and workers from harmful factors and to provide a safe and pleasant work environment. For all harmful factors, we collect the MSDS and provide the information to our employees and closely monitor the health of staff who are exposed to specific harmful factors by conducting special checkups.
In addition, we measure and manage the work environment and exposure to harmful factors by establishing internal standards that are stronger than the legal standards in order to provide a safer working environment to our employees. Through these efforts, we achieved 'ZERO' Occupational Illness Frequency Rate(OIFR) in all our business divisions for the past three years.
---
Safety Climate Diagnosis and Evaluation
Hanwha Corporation has developed a Safety Climate measurement program to establish a more mature safety culture. We measure Hanwha Corporation's overall Safety Climate level as well as strengths and weaknesses of each specific indicator and establish effective safety culture strategies that are optimized for our organization.
---
Implementation of 'Safety Day'
Hanwha Corporation designates a cycle for each plant and implements a 'Safety Day' participated by all employees. On 'Safety Day', the plants share information on the importance of safety and raise awareness by suspending all production in the plants, sharing their on-site improvement activities, such as various safety-related education and training sessions, intensive inspection activities, and small group safety improvement meetings, sharing results and feedback, and concentrating only on safety and health activities.