Quality Management Policy
We implement the following quality-control policies in order to provide the services and products that fulfill customer expectations,
applying them to production activities and development and design of our products, and enforcing and understanding these regulations and
specifications for the requirements of concerned interests, including customers, so that we can become a global leader in machinery and aerospace.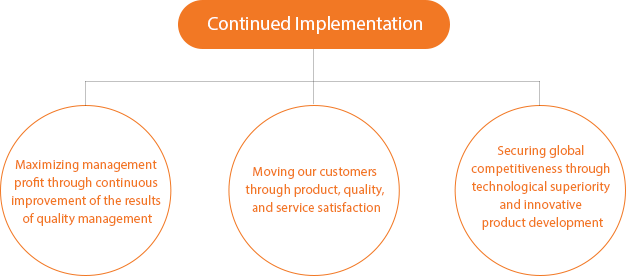 In order to achieve all this, all workers must
1. Establish, implement, and continuously propose an efficient quality management system
that fulfills the requirements of ISO 9001:2008 and TS16949:2009
2. Sincerely fulfill the responsibilities and rights described in the manual based on full understanding of the policy.
3. Establish and implement regular management (quality) targets and then regularly measure and strive to achieve those targets.

In order to efficiently implement this quality management system, this person is appointed as the management representative and head
of the resource/quality assurance team, and is in charge of operating the quality management system and its maintenance.
The management representative reports to this person regarding all manner of problems that arise during the operation of the quality
management system, and shall resolve all issues according to this person's decisions.
Hanwha Corporation/Machinery,
CEO Ok, Kyeong seak