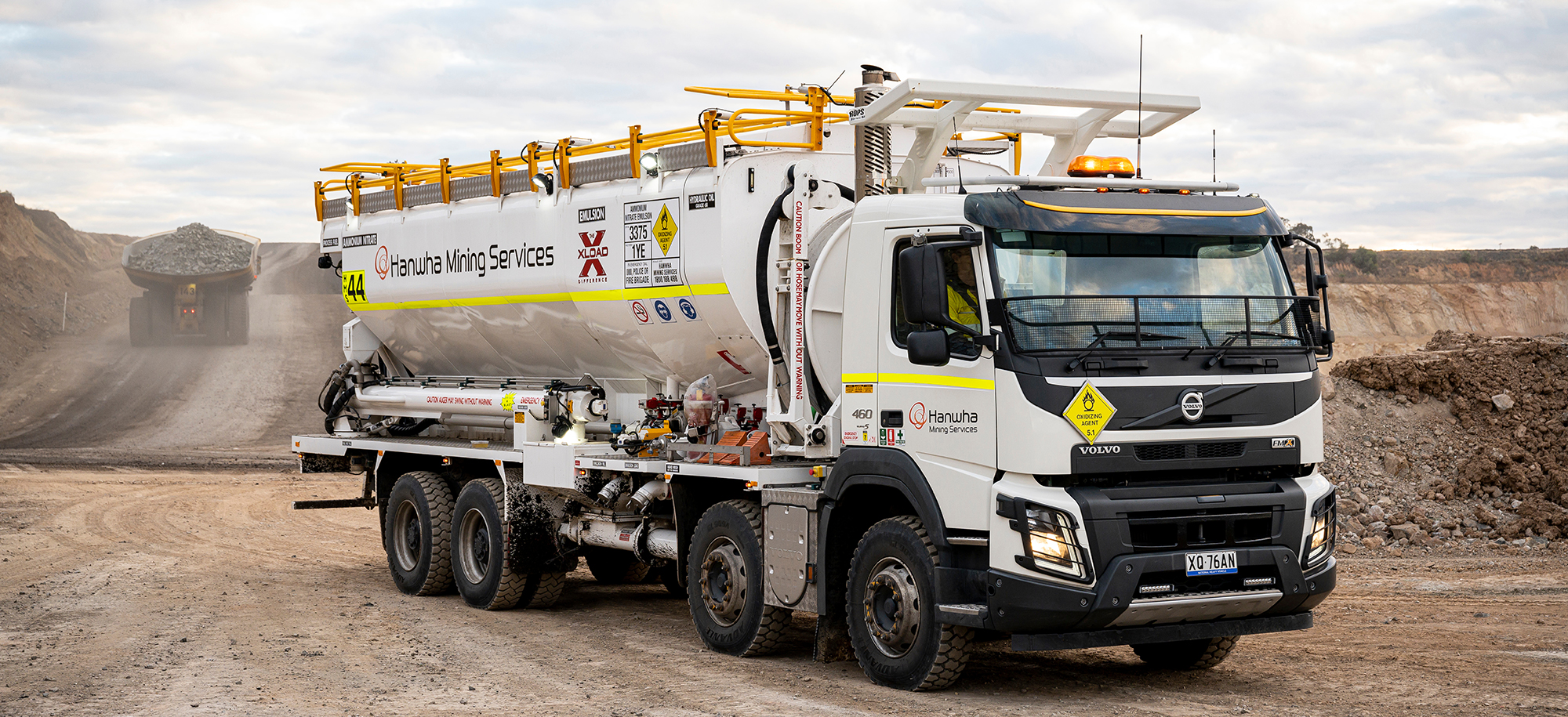 Hanwha Mining Services Australia
With over 60 years of experience in the explosives industry, Hanwha launched its international business platform in 2014.
With world-leading technologies, manufacturing competency and customer-focused services, Hanwha Mining Services
offers the market a dynamic partner for the future. Our world-class products and services offer true 'Customer Choice' with
flexibility for our customers to meet their needs and deliver the best outcomes for their projects. We take pride in our integrity
and it is our priority to operate ethically and safely across the organization. Our willingness to collaborate has expanded
our customer base rapidly and we now have our presence in Indonesia, Australia and Chile.

Services

We recognise that our customers have diverse needs that require unique, tailored solutions. Our diverse suite of services ensure that we can support your blasting needs successfully.

Blasting
Services

Total Loading Services
Down the hole Services
Shotfiring Services

Product &
Equipment
Supply *

Supply of Explosives (ANFO, HiDEX™, XLOAD™)
Supply of Initiating Systems (HiNEL Plus®, HiTRONIC™)
Lease of Mobile Processing Units (MPUs)

(* Click here to see all products produced in Boeun Plant, Korea)

Technical
Services

Technical Support
User Training

Bulk Systems

Through Hanwha's expertise and proprietary technology, a suite of bulk products have been developed with excellent safety, blast efficiency and formulated to minimise fume propensity. Hanwha's suite is comprised of three distinct products:

Hanwha's flagship emulsion, XM1000, is a dual salt, high energy product with a low water content. Manufactured with a high efficiency emulsifier, XM1000 is a robust product that can be trusted in the toughest of downhole applications. Unique to Hanwha is XLOAD. XLOAD is a density modifiable heavy ANFO that can be manufactured with densities from 0.9 – 1.2 g/cc. Water resistant products can be manufactured from 1.0 – 1.2 g/cc. The benefit of XLOAD is that with the correct design, density can be maintained when loading wet and dry holes – preventing the need to load high expense, high emulsion pump products.
Initiating Systems

Hanwha has applied 60 years of experience, proprietary technology world leading expertise to develop best in class initiating systems and bring them to market. Hanwha's initiating products include:

HiNEL Plus®
(Non-Electric
Detonator)

Hanwha has produced over 800 million detonators under ISO 9001 accreditation. Using the diverse range of products, Hanwha can ensure our customers requirements are met.

Quality Control

In order to match customer expectations and match a rapidly changing business environment, Hanwha has established the following quality policy.

Achieve
Customer
Satisfaction

Hanwha does all it can to provide the best quality &
service to meet customers' expectations & requirements

Diligent
Improvement
of the Quality
Management
System

Hanwha fully understands and has attained ISO 9001 quality management system Hanwha maintains proper quality system by updating quality manuals and instructions Hanwha carries out HEPP (Human Error Prevention Plan) for all processes to continuously improve product and service qualities

Exceptional
Quality

Hanwha achieves high quality level through scientific control
systems

As an ISO 9001 certified company, Hanwha operates under the Quality Policy specified above, and this policy is applied both to the goods that we produce on our own and to the goods are outsourced from third party. Click here for ISO 9001 documentation.
Hanwha's Quality Control

Hanwha Corporation operates a 'State of the Art' manufacturing facilities in Boeun, located approximately 230km SE of Seoul. The facility was opened in October 1991, develops and manufactures of Initiating Systems, Packaged and Bulk Emulsion manufacturing.
It gives absolute comfort that all detonators that leave the Boeun facility have met the most rigorous quality control standards in the industry.

Boeun Facility

The Initiating Systems facility produces over 30M units per annum, Hanwha has produced over 800M units since its inception. Over the course of time, Hanwha engineering have been continuously improving the processes for safety, efficiency and quality.
Hanwha has developed an automated Signal tube manufacturing line which maintain sensor controlled diagnostics assuring the 3 layered tube remains within manufacturing tolerance. This production facility is another example of Hanwha leading technology.
In 2013 our IS manufacturing team created a step change in quality assurance by the addition of automated lines with X-ray imaging of every single detonator crimp. This technology developed 'in house' is now the global benchmark for manufacturing standard.

Hanwha's "Quality Control Tracking" program covers its entire process: setting a high standard on its suppliers, handing of raw materials at its blasting accessories plant, using of those products at the customers' site and monitoring post-blast results to ensure that quality is kept at high standard.

SHEC

Hanwha Mining Services Australia is committed to achieving a workplace that protects people, respects the environment, is valued by the community and is the foundation for a long term successful and sustainable organisation. As an organisation, we embrace a culture of harm reduction through the application of systems, process and training befitting a World Class organisation. Our people at all levels in the organisation are able to take safety centric decisions that identify hazards, minimise risk and continuously improve the workplace. HMSA adopts a risk-based management approach, whereby the significant risks are identified, documented and controls incorporated into daily operations. All training is competency assessed and mapped against internationally recognised standards, a cloud based information system is used to ensure that corporate knowledge is captured, disseminated and available to all people in the organisation. Pursuing excellence in Safety, Health and the Environment is achieved through The Hanwha Way, a safety contract between every individual and their manager that clearly sets out the expectations, responsibilities and behaviors of the individual but also the behaviors that are expected of every manager and supervisor at Hanwha Mining Services Australia.

Click here to download PIRMP for our plant

For More
HMSA Business
Click icon for contact details